Nairobi, Kenya August 15th , 2023 –IXAfrica Data Centre Limited ("IXAfrica", or the "Company"), a leading developer and operator of hyperscale-ready data centers in East Africa, and Tilisi Developments plc ("Tilisi"), a premier real estate developer are pleased to announce a groundbreaking transaction whereby IXAfrica has signed a term sheet to purchase 11 acres of prime land for the construction of its second data centre campus in Nairobi, Kenya.
The agreement marks a significant milestone for both companies and represents a major leap forward in advancing the data center infrastructure in East Africa. Due diligence is currently underway to determine the exact size of the campus, with initial estimates pointing to an impressive 30MW+ facility.
Graeme Reid Tilisi CEO, voiced his enthusiasm for the strategic partnership formed with IXAfrica, emphasizing Tilisi's attractiveness as a prime investment destination for developers. Mr. Reid stated, "Our collaboration with IXAfrica is a testament to Tilisi's appeal as an investment hub for developers. This partnership bolsters our standing as a premier infrastructure developer in the region."
Guy Willner, Chairman of IXAfrica, expressed his strong belief at the prospect of offering a second site for hyperscalers looking to enter East Africa. "This expansion reaffirms our commitment to the region and our belief in its immense potential for growth and technological advancement. With Tilisi's industrial parks, high-quality development, reliable power and water supply, fresh air, and advantageous altitude for free cooling, this new campus will provide an ideal environment for our data center operations. With latency sub-5ms between the two campuses the distance satisfies the maxima and minimal requirements for hyperscale deployments."
Richard Hechle, MD of Dimension Data East & West Africa, said "This expansion signifies not only enhanced capacity but also a gateway to further connectivity options, enabling us to deliver seamless and high-performance solutions to our customers. We look forward to leveraging this strategic move to catalyze innovation, foster growth, and ultimately elevate the connectivity experience for our clients."
The new data centre campus in East Africa is expected to cater to the increasing demand for cloud computing services, digital transformation, and edge computing applications in the region. By providing state-of-the-art infrastructure, green power availability, advanced security measures, and efficient cooling solutions, IXAfrica is poised to play a pivotal role in bolstering East Africa's technology landscape.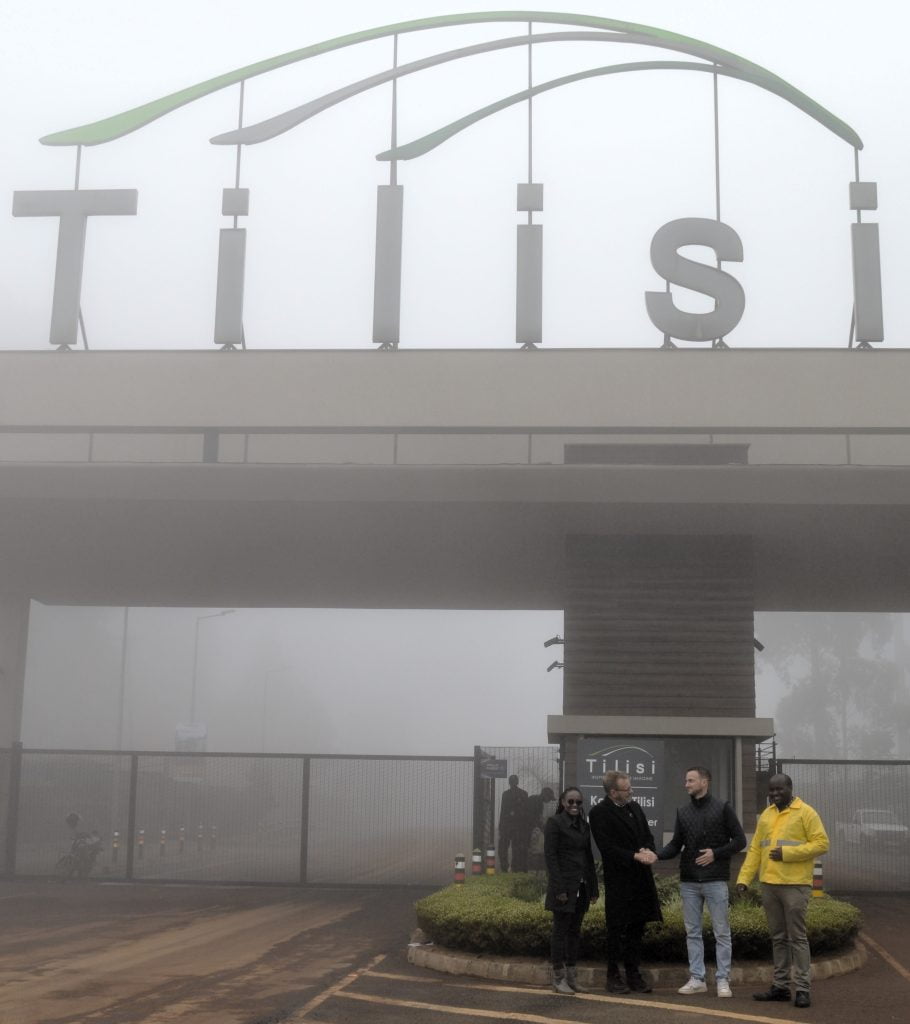 Photo from left to right Mary Kariuki, Graeme Reid, Clement Martineau & Albert Maina
IXAFRICA
Mary Kariuki, Sales and Digital Marketing
+254 720 811 478
About IXAfrica Data Centre
IXAfrica is a carrier and cloud-neutral colocation data centre operator in Kenya. IXAfrica provides world-class and highly resilient data centre infrastructure to create a vital part of the internet backbone of East Africa. With a Nairobi Campus One overall design capacity of 22.5MW iXAfrica has the largest datacentre project in the Greater East African region, serving a total population of 300 million people. The campus is situated close to the main fibre optic communications arteries and is in close proximity to major and resilient electrical connections, capable of delivering high-availability and low-carbon power. Over 80% of Kenya's electricity is generated from renewable/clean energy sources.
About Tilisi Developments PLC
Tilisi is a renowned real estate development company known for creating vibrant and sustainable business environments. With a focus on innovation, Tilisi's 400 acres development offers top-notch industrial parks, commercial spaces, and residential developments that promote economic growth and urbanization. Situated 30KM North of Nairobi CBD, Tilisi has infrastructure benefits ranging from main arterial roads around it, backed by a growing number of fibre networks, Tilisi Power Company a licensed power distribution utility entity, licensed by EPRA and owned by Tilisi Developments PLC.
IXAfrica and Tilisi are trademarks of their respective companies.